Hollow Rock Access Area
(Component 6 of New Hope Corridor Open Space Master Plan)
Related links:
New Hope Preserve and Hollow Rock Nature Park -- History
Hollow Rock Nature Park Facebook page
Hollow Rock Nature Park trail map
Friends of Hollow Rock Nature Park
Committee Comments on Baker Home Sites development 1/9/20
Photos
Enjoy "The Simple Gifts of Spring," a compilation of photos by Katie Early from her spring 2020 walks in Triangle natural areas. See if you can identify the shots from Hollow Rock.
© Katie O. Early Photography
The photographer can be contacted through info@newhopecreek.org
Click photos below to enlarge.
Sightings
On Dec. 4, 2014, Mark Chavez reported: "Saw an otter eating something while I was overlooking the creek at Hanging Rock, early morning. I estimate the size to be around 15-20 lbs. I later found a large fish head (rest of fish gone) to the right of Hanging Rock and some scat in the area probably left by the otter. Where the fish head was left looks to be a pretty good spot for a den (small cave, protected by water)."
Description and Special Features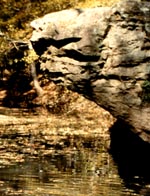 New Hope Creek flows under Erwin Road near Pickett Road, close to the boundary between Orange and Durham counties. Just north of Erwin is the Korstian Division of Duke Forest.
The rock formation known as Hollow Rock is located a few hundred yards upstream of the Erwin Road bridge over New Hope Creek.
The views along New Hope Creek at Hollow Rock are some of most interesting and scenic in Orange County. Here the creek has carved steep bluffs out of the soft sediments of the Triassic Basin. This sandstone outcrop, 20 to 30 feet high, runs several hundred yards in length and is deeply undercut in places, forming deep recesses (thus the name Hollow Rock).
Just outside the boundaries of Duke Forest, this bluff along the north-facing side of the creek is located opposite a trail that offers one of the best views of rhododendron in bloom during the spring. The rhododendron slope has a forest canopy that features beech (Fagus grandifolia), white oak (Quercus alba), and northern red oak (Quercus rubra).
Across the street, on the south side of Erwin Road, was the site, until 1999, of the Hollow Rock Store. The current owners of that site have protected their land with a conservation easement that has allowed a public trail to be established along New Hope Creek linking Duke Forest trails north of Erwin Road to the Hollow Rock Nature Park and eventually to trails further downstream in Durham County.
In 2005, 43 acres of land near this site were saved from development and set aside for acquisition by a local government coalition. The purchase of that land from Duke University was completed on April 8, 2008. It is now part of the Hollow Rock Access Area. See below for links to news stories about this land conservation victory. Since then, another 30 acres have been acquired.
On May 23, 2016, the 75-acre Hollow Rock Nature Park opened at the site, with two miles of hiking trails. It is located at 692 Erwin Road, just north of New Hope Creek.
This section of the New Hope is home to annual Earth Day events and the annual "Centers of Exploration" project of the third-grade classes at nearby Forest View Elementary. Visit their website to see what they're learning about the life of a creek.
In the News
Links to news stories about the Hollow Rock Access area:
Emily Weinstein's art book Saving Magic Places, published in December 2007, chronicles the 2005 fight to save the Hollow Rock land
Forest View students take personal view of nature, January 25, 2006
A good deal that reaches across borders, April 10, 2005, about the deal that preserved 66 acres at Erwin and Pickett Roads
State puts $1.1M into buying Erwin, Pickett park land, November 15, 2005, about the state's grant to help buy that land
Easement will restore access to New Hope Creek trail, November 27, 2003, about the purchase of easements to retain access to trails along the New Hope after the Hollow Rock Store closed.
Text from 1991 New Hope Corridor Open Space Master Plan
Existing Land Use & Ownership
Duke University
One privately-owned parcel immediately south of Duke Forest
Future Land Use
The Duke University land is part of the Korstian Division of Duke Forest. In the Duke Land Resource Committee's report (December 1988), the area below Erwin Road is classified as Residual Endowment Lands (Class 4), which means that the area will "no longer be considered part of Duke Forest . . . . The priority use of [this] land will be to generate financial return or other benefits to . . . the University."
Duke Forest immediately above Erwin Road is classified as Permanent Research Forest (Class 1) land, which is "most intensively used for academic and research purposes. These lands will be dedicated to academic purposes for a period of 50 years."
The lands in private ownership southwest of Erwin Road are zoned in Orange County as rural buffer (permitting 1 dwelling per 2 acres) and in Durham County as R-20 (1 dwelling per 1/2 acre).
Significant Resources
North of Erwin Road, New Hope Creek flows east and south through the Carolina Slate Belt, creating narrow, deep, twisted valleys. A short distance southeast of Erwin Road, the Creek flows onto the Durham-Deep River Triassic Basin, characterized by broad floodplains. This portion of the floodplain, in which it is recommended that a natural area be established, is of considerable interest in that it displays the interactions that exist among geologic formations, the flow of water, plants and animals, and human activity.
Pickett Road has significant historical value because it is the path of the Old Stage Coach Road. The west end is gravel and retains the rural flavor of by-gone days. It crosses a tributary of New Hope Creek.
Recommendations for Protection & Use
Acquire the Class 4 property south of Erwin Road from Duke University as part of the Wildlife Protection Area.
Acquire additional land adjacent to the Duke parcel south of Erwin Road to provide access to New Hope Creek south of the Hollow Rock Store as part of the Wildlife Protection Area.
Develop a carefully planned and constructed access from Erwin Road, with a parking area, picnic area, interpretive facility, and trailheads leading into the footpath systems in the wildlife habitat area and recognize with care the existing trails in Duke Forest.
Give careful attention to the alignment and use of Pickett Road where it intersects Erwin Road and assure safe and adequate access to the Hollow Rock access area.
---