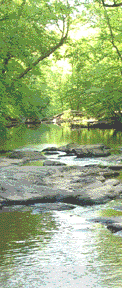 Behind our unwieldly acronym is a group of Triangle-area residents who are devoted to New Hope Creek. The New Hope Creek Corridor Advisory Committee was established to advise local government on implementing the 1991 New Hope Corridor Open Space Master Plan. Its further mission is to enhance awareness of the natural, historical, and cultural value of the New Hope Creek Corridor and to encourage community stewardship of these heritage resources.
The committee is composed of representatives from local governments and commissions, universities, environmental organizations, landowners, citizens' groups, and concerned individuals. A list of current committee members and their organizational affiliations, if applicable, appears below. Click here to see a list of former members and committee contacts, and here to read the minutes of past Committee meetings.
Click here to view a short PowerPoint presentation on the work of the Committee.
To contact the committee...
...email us at info@newhopecreek.org
...call one of the members whose phone numbers are listed below, or
...send postal mail to:
New Hope Creek Corridor Advisory Committee
839 Sedgefield St.
Durham, NC 27705
Current Committee Members




Advisors




Website Administrator

Links to Affiliated Agencies & Organizations
---