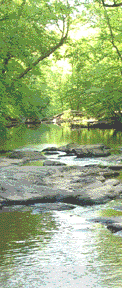 These individuals have served on the New Hope Creek Corridor Advisory Committee in the past and/or currently serve as important contacts for the Committee in its work. (Current members of the Committee are listed on the About Us page.)
Former Committee Members
Hildegard Ryals (former Chair)
Deborah Christie (former Co-Chair)
Ed Harrison, Chapel Hill Town Council
William Hutchins
Muriel Easterling
Joan Magat
Bob Palmatier
Isaac Harold, N.C. Wildlife Commission
Christine Searl-Bouton, Durham Open Space & Trails Commission (DOST)
Robert B. Glenn, DOST
Thomas Stark, DOST
Kenneth Coulter
Michael Waldroup
Bill Bracey, Chapel Hill Greenways Commission
Gail Boyarsky
Lorelei Costa, Triangle Land Conservancy
Committee Contacts, past and present
Bill Strom, Chapel Hill Town Council
Ellen Reckhow, Chair, Durham County Commissioners
Becky Heron, Durham County Commissioner
Jane Korest, Durham County staff
Mike Giles, Durham County staff
Glen Bowles, DOST
Cheri Smith, DOST
Diane Catotti, Durham City Council
Beth Timson, Durham City staff
Barry Jacobs, Orange County Commissioner
Kevin Brice, Triangle Land Conservancy (TLC)
Emily Ander, TLC
Jeff Masten, TLC
Doug Nicholas, TLC
Johnny Randall, N.C. Botanical Garden
Steven Hall, Natural Heritage Program
Annette Jurgelski, Eno River Association
Jeffrey A. Fisher
Annette Montgomery
Our dear friend and long-time New Hope Advisory Committee member B.B. (Billy) Olive passed away on December 4, 2014 at the age of 93. He swam in the New Hope near Hollow Rock as a boy and his efforts to protect the creek stretch back to the 1970s when he successfully opposed a dam that would have served an industrial plant. Read his News & Observer obituary here.
Hildegard Ryals, former chair of the New Hope Creek Corridor Advisory Committee, passed away on Thursday, November 1, 2012.
Chapel Hill Town Council member Ed Harrison notes: "Hildegard was a force of nature on behalf of the environment, in particular for lands deserving protection. She led the first New Hope Creek corridor preservation efforts, and corralled any number of us to help. Hildegard Ryals was, simply put, a superb role model for those who need to practice persistence in the face of obstacles, which would include all of us."
---