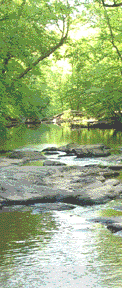 A Cool Drink of Water
by Judy Martell
April, 2007
I sit on the back steps on the first warm day of March and think about getting a cool drink of water from the spring. Too lazy to move, I think, then, just about the spring: how it flows night and day, all year, from beneath the earth out there in the woods where no one sees; fresh, cool water flowing away, forever, tasting better when it comes out of the earth than any water I have ever found.
I sit there in the sun and think about how that clear water flows into the mud and into the creek below. I imagine the water traveling into muddy streams, into bigger creeks and rivers and lakes and oceans. For a little while I flow like the water in the warmth of the morning. I lean my head against the house, turn my face to the sun, and listen to myself.
There are things I want to do. I want to climb the highest mountain in each state, but I have stalled at 27. I want to walk across the United States. I want to raise good children: this I think I have done, but cannot be sure. To know the names of every kind of tree on this farm where I live. . . to learn to enjoy Saturday nights alone. . .
And then, suddenly, a thought warms in me: I want to know where the spring goes. Twenty-two years I have lived here, and yet I do not know where this delicious water really flows. I remember some names: Mud Creek, New Hope Creek, Jordan Lake, Cape Fear. More important now than anything is to know the true path of the spring water. And I know without thinking: a map will not do. I do not want to be told directions, crossings, locations: I want to know the slow growth from trickle to stream, move through the brambles and privet, inhale the dark smells. I will walk it.
First Day: At the Spring
I wear my hiking boots, jeans, and a light jacket. In the pocket of the jacket I put a granola bar and a disposable camera; in my hands I carry a water bottle and binoculars. I head out from the house in the early afternoon, aware of a thunderstorm forecast, but eager to start: over the hill, into the woods and down to the spring, to start the journey with a drink of water.
The spring bubbles up from the earth and out to form a muddy pool, and then down through a bed of lush, green watercress. Deer prints mark the mud and now my boot tracks do, too, as I stoop to cup my hands and drink. I take a deep breath, then, and look around, wanting to prolong this beginning.
The woods here are old and without underbrush, a full canopy of empty winter branches above and a bed of thick, dry leaves on the floor. An old barbed-wire fence that slopes across the ridge behind me, imbedded in trunks of trees, and the little stone house built into the bank, protecting the source of the spring, are the only telling of a homestead that was here long ago. A metal pipe slopes out of the base of the stone house and the cool, fresh water pours out, crystal-clear. I gather myself at the spring, as I imagine a woman long ago has, resting for a little time before returning to her work.
I am aware that this may be a long journey, both in distance and time. I am awed by the size of it. I will follow one stream: one stream of millions on earth flowing. I will plod while the water flows, I will go to places I do not know that the river has made and has always known.
I am not young, but I am younger than the river and I feel time stretching before me gently: I have time for this.
I begin to follow beside large, flat rocks, the clear water sliding over—a true babbling brook for a few hundred yards. I come to the bank where years ago I stood with my young boys and watched as a black snake caught and swallowed a bullfrog. And then, just beyond, the stream turns and is channeled through a culvert and under the road, just as suddenly becoming sludgy and slow, littered, foreign. I move out, over the road, and pick up the water trail as it winds its way through the neighborhood beyond.
For a while it is slow traveling. There are brambles and boggy areas where new construction has changed the natural terrain. There is an oily cast on the water. I scramble along at the margins of back yards, but in spite of the noise I make, I go unnoticed. After about a half mile I have left the neighborhood behind, and move more easily into wetlands and fields scattered with pines. The water runs clear again and I find at last a steady pace.
This is an unfamiliar land. It is an in-between place, beyond back yards, out of reach of cars and so, virtually, a secret. I feel myself become invisible.
It is easy here when little tributaries join my creek to step across them, but after another half mile I must make more effort. I hesitate before the first jump, but find it pleasant, my knees uncomplaining, my feet securing the opposite bank as if remembering from childhood. I realize now, as the tributaries grow larger, that following a river may have complications, but I push the thought aside and move on.
When I come to the first road, I am disoriented. The stream goes through a large culvert with room to walk, but, curious about the road, I struggle up the bank to orient myself. I have had all along an expectation of where the stream intersects with local roads, and now, when I look up and down this unfamiliar road, I am unsure of where I am. The stream has perhaps swung more south than west. I had been sure it would join New Hope Creek down by the old Hollow Rock Country Store, but this is another place altogether. It pleases me that I was wrong, and I duck back and into the culvert to avoid crossing the road. As I walk on, I store this wonderful new awareness: the roads we travel on every day are a distortion of nature's way, slashed straight and hard across meandering, natural compositions of water and terrain. Are our personal pathways so blind and straight as well, when perhaps they could flow more casually, with comfortable curves?
The afternoon is almost gone. I discover I have dropped my binoculars somewhere along the way, and my camera, both unused. I have little water left in my water bottle, and my feet are tiring. I begin to consider how I will return home when I come upon a man and his son standing on the bank of the stream. These are the first people I have seen, and I feel suddenly crowded, exhausted. Soon after I pass them, I see landscaped lawns, a tennis court, and know I have come to the end of my day's walk in the middle of an upper-crust development. My tranquil stream seems to merely serve as a centerpiece for this community's sculpture. I leave the water for the first time, walking out amongst the large homes and mulched flower beds, the closed doors and windows. My boots are now a burden and the pavement hard on my tired body; I am hungry as I start the walk back along the straight roads home.
I will plan for another day to move further down the river, where I know it will grow in strength and size. For today, I am content with the experience of my little spring's first pathway close to home.
Second Day: Traffic Jam
When I decide to walk again at the end of March, the blackberry vines have set their first leaves. I put on a heavy shirt and pants and tie my hair back, anticipating thickets. This time, I prepare a small shoulder pack with snacks, a sweater and water, to leave my hands free. I wish later that I had added a notebook and pencil and a wildflower field guide and had left the bulky sweater behind.
I drive away in my car this time, out from the farm and so quickly across the first day's winding trail, parking not far from my last sight of the stream. I slip unnoticed back into the woods and before long pass out of the development and into invisible territory again. I pass the back end of a farm I recognize, and then I hear a highway ahead, a presence long before it comes into view.
The highway I come to is a main thoroughfare that I know well, but now I see it from below: the huge culverts, steep banks, rumbling underbellies of cars overhead. I briefly consider crossing up and over the highway, but am shy of the noise and visibility, so I look more closely at the culverts. There are three of them, taller than I am: though the water is low now, the culverts could fill quickly in a heavy rain. They seem long and dark, the water still and black and of unknown depth. One culvert has a sandy bank that stretches in a short way, so it is this one I choose. When I reach the end of the sandy bank, I roll up my jeans and take off my boots and socks, tying the laces together to sling over my shoulder. The water is cold but not chilling, with mud below that sucks at my legs. I push aside thoughts of glass shards and strange, sightless animals and, pressing my hand against the cool cement wall to steady myself, I squish toward the other side. As I sink knee-deep, I smile to think there may be friends passing overhead in their cars at this very moment, oblivious to me down here in the muck.
On the other side of the highway the creek winds behind a low-income apartment complex. The banks fall down from the apartments in a jumble of discarded refrigerators, beer bottles, shopping carts and old bicycles, and I hurry on. As the apartments and the highway fade behind me so does the litter, and the stream once again runs clear through quiet woods.
Soon I come to the first major intersection of water where my spring, which became Mud Creek along the way, now joins the larger New Hope Creek coming in from the right. I am caught on the right-hand side of Mud Creek and unable to cross the New Hope. I sit on the bank and consider the wide water and steep banks. If it were warmer, I might swim. Instead, I explore up the bank of New Hope Creek, searching for a crossing, and then back-track upstream along Mud Creek. I am forced to return all the way to the litter landslide before finding a crossing. I hurry once again down-river to get back to the peace of the woods and my solitude.
Now the rhythm is natural as I walk. I feel I am deep in the spaces between worlds. I am totally alone. I walk for two hours as the river winds in languorous loops, and there is never another human. A great blue heron keeps me company awhile, and there are ducks, and sometimes tiny wildflowers—blue, yellow, white. The sun shines a perfect warmth on my face.
It occurs to me that I were injured, there would be no one to find me. But there is no fear in the thought. After so many hours alone with the river, it is just a thought.
I am no ballerina, I am no Indian! Animals hide out as I crash through blackberry thickets; birds are silenced as I stomp aside the dried weed stalks to clear my way. I often now have to cross large tributaries on fallen logs, sometimes going a distance upstream to find one. Three times I ford the growing river itself, walking along the body of a great oak from bank to bank, arms waving at my sides, laughing with pleasure when I am safely ashore.
Late in the afternoon, I hear another highway ahead. The river bends repeatedly and there are many more tributaries flowing into the river, so it is another hour before I know I will be coming out of the woods at last. I arrive at a small, cement dam in what appears to be a wetlands bird sanctuary, and I sit on the sloping wall to rest awhile.
Still alone, still invisible, I stare across the wetlands and through the trees at an endless line of cars moving slowly past on the road. Reluctantly, I must leave my real water-companion and join this harsh stream of cars to walk along the roadside until I can find a public phone-booth. I call a friend to come pick me up, as I have come too far from home to walk back. I sit and wait by the busy highway, unable to balance the steely sounds of automobiles and people with the gentle whispers of flowing water that have been my company today.
Before this day has ended, I am already anxious to return to the peace of the river. I will need to wait until the season is right, when the waters and the underbrush are low, and I will need a companion, two vehicles, high wading boots, a topographical map, and well-prepared provisions, because this river now begins, I know, to enter a large, protected preserve as it gathers with other rivers and begins to enter Jordan Lake.
As I anticipate the next adventure along these waters, it occurs to me that this is perhaps how my life has flowed along so far: slowly, unconsciously in childhood, and then with more volume and complexity in mid-life, requiring high wading boots and a topographical map! I smile to think of carrying this symbolism as far as the ocean—as far as my life may go. But I will save deeper reflections for another day: it is time now to go home.
Third Day: The Wetlands
It is full winter when I join my river path again: December, and the underbrush is gone, along with its blackberry and honeysuckle tangles. The air is brilliantly crisp and cold, in the low 30s, but the sun shines and I have brought a friend along, which adds even more sunshine to this little expedition.
We are venturing cheerfully into the unknown. We do know that this area will be boggy wetlands, and that somehow we must navigate under or over an eight-lane interstate highway. We have parked one vehicle where we expect to finish our day, we have a laminated topographical map in case we get sidetracked by tributaries, and I have brought a pair of wading boots in a backpack, along with mittens, hats, extra socks, a camera, food and water. We could probably travel for days with these provisions, but they give me comfort against the unknown and my bulky backpack adds an extra flavor of wilderness exploration to our somewhat benign trek in the middle-earth of our little county.
My companion is a life-time adventuress, though her lifetime is half of mine. She was one of my beloved students in the past and now, as a young adult, has become a special friend. She lives just on the other side of the little spring that was the origin of this day trip, and has drunk from it often. She has explored the woods around the spring, picked the watercress for her salads, and walked through the woods to visit me, sometimes in the dark without a light, or in the snow without a jacket. She has come today in her new hiking boots to break them in, and has few provisions compared to my heavy load.
I realize from the start that I will now be following rather than leading, which is a good thing. In the past few years I have become conscious of a new willingness to step aside for the younger and more confident as I slowly acknowledge my aging body and competencies. And so, as we step off the road into a lovely beech grove, its brown leaves singing in the breeze, my friend naturally and nimbly moves down the embankment and into the woods, and I move along behind her, more slowly.
We anticipate that this will be a two hour walk, as the crow-flying distance is a mere three miles. But we could not anticipate the difficulties of trekking through such wetlands, each difficulty slowing us in its own way. Between the green-briar brambles, the meandering swamps, the interstate highway, and the unending tributaries, our trek becomes six miles at least of circuitous, high-stepping, log-balancing, mud-slogging reversals and guesswork. It is lovely.
Although the blackberry bushes and honeysuckle vines are dormant and therefore easy to push through or step on to climb over, the green-briar is another story. This hearty plant seems to thrive in this boggy land. It grows in dense gorgeous-green masses that can command many square yards. The vines are leafless now, but they are punctuated randomly with sharp thorns, and they are bundled tightly together. It is impossible to penetrate these walls of barbed wire, so each encounter forces us to side-track, sometimes repeatedly, as we encounter another mass of green-briar after rounding the last one. This drives us away from the river and forces us to struggle back around more vines just to end up a few feet further along the river. It occurs to us after many such struggles that a machete might have been a smart addition to our provisions.
This wetland area we are trying to cross is at the source of a large reservoir. It is a bird preservation area, which, we imagine as we slog through it, is mostly for ducks and geese and migrating waterfowl. To stay with the river as it meanders its way through this low land means that we have to walk directly through the cold bogs at times, or, if the water is deep, circumvent them. At times in an attempt to circumvent a deep boggy area, we then come to a tributary, which we have to traverse by finding a log up or down stream—sometimes quite a distance up stream. We cross, and then back we go along the other side of the tributary, then around the back side of the boggy area to try to connect with the river—and there is another tributary! We find a log to cross over this one, and then have to get our bearings. Which way is the river again? Is that the bog we just went around, or a new one? When we do finally get back to the river I throw leaves into it to check the direction of the current, and then look to the sun for a second opinion, and off we go again. Our river is our companion; it is patient, steadfast and contained in this somewhat belligerent and disheveled landscape.
It occurs to me when we stop to rest by the river that this trek is really just one big allegory. Hermann Hesse wrote about the young Buddha, Siddhartha, who finally found enlightenment when sitting beside the river. The river, as an entity that was constant even as the water flowed past, gave him a connection to the meaning of life and time. Here was the whole story: life in its flow, the many and the One, eternal life, rejuvenation. And if we add our little river's many distracting tributaries and the sloggy bog-walking and the green-briar bush-blockades to the Buddha's river, perhaps we have the path to enlightenment on the side-tracks of life, its challenges, the over-coming, the frustration of slow progress, and the eventual return to the river and the flow, which is steadily there. Such possibilities!
There is a lyric in a Simon and Garfunkel song that goes, "After changes, we are more or less the same". I have forgotten the name of the song, I have forgotten the tune, I have forgotten the rest of the words, but this one line I will never forget: it describes perfectly, after all, the constant river that is oneself, the individual being that is steadfast through every effort of one's own to change its course, and in spite of or because of outside influences.
Perhaps this is the real reason I am drawn to this strange experiment of following the river: to travel down my own course a little while, reflect on its distractions, its boggy-spots, its brambly-bushes, and then to come back home to what was always there and sit peacefully by its banks.
And what of the interstate highway that we soon must face? This clearly has numerous applications to the allegory, but there is no time to ponder them now. We move ahead and the sound of vast floes of rubber on concrete grows louder and more ominous. The sound is strangely high, almost above the tops of the trees, and it roars right across the sky from east to west as we move southward.
As we approach the tall embankment of the highway, our river disappears entirely now into a broad confusion of water, land, rocks, trash and spindly trees. With the cars and trucks streaming high above us, we look up and down the embankment along its base, searching for the river. We can't tell where the river is channeled under the highway, so we climb over a barbed-wire fence and upward toward the cars, over large landscaping rocks called riprap, to search for a sign of a bridge.
Since we began our trek several hours ago, we have seen no other humans, and few animals. When we reach the top of the embankment, we find ourselves facing into humanity-on-wheels coming at us at 80 miles an hour, non-stop. The guardrail and a narrow strip of level dirt are all that separate us from oncoming traffic, so we quickly scan east and west, locate what appears to be a bridge fifty yards to the east, and back we go down the ankle-busting riprap, away from the thunderous traffic, to work our way to the bridge.
We are delighted to find that there is dry land under the bridge on our side of the water. A wide dirt path spans all the way under the highway, and our river flows again here, gathering its water back from the confusion we just hiked through. But here under this highway the lovely river has become a mere canal, its curves funneled by the intentions of men into a defined channel and through a large concrete sluice on the other side of the highway. The water has no spirit here. Huge pylons take their stance on either side: tree-imposters. Sloping borders of riprap substitute as river-banks and the underbelly of the highway high above forms a dark sky that throws no shadows.
We stop for a late lunch here under the rumbling highway and beyond the imagination of all who pass over. It is a unique feeling to be so close to the peopled world and yet so very distant—to be part of the underworld. But we do not linger over lunch. We head out from under the highway to climb a grassy bank, cross the sluice dam and, with relief, enter again the world of real trees with a free and rambling river.
And here at last the ground is solid. The swamps and bogs are gone. The banks of the river are steep and dry as the river cuts deep switchbacks in its final stretch of freedom before it will be captured by the lake ahead. We re-discover a natural stride and move happily along the riverbank. A great blue heron swoops along the river. We pass a large beaver dam right on the high bank. A woodpecker raps its presence, but cannot be seen. In the distance, a fisherman casts his net off the dam that comes into view, and we know we are coming to the end of our walk in the woods.
The trees now are dressing in the shadows of a short winter day. The air is crisper as the sun slides below the tree line. We hop over the last little stream and stroll casually out along the causeway beside the fisherman, and head for home.
Fourth Day: Aborted

There is little time to waste in returning to the river if I am to reach the lake this season. I know the green-briar and blackberry will only get thicker, the air muggier and the river harder to spot as it twists through trees if they have leafed, so I make plans in late February to trek the last few miles to the lake. I invite a different friend this time. A few years ago we had walked across Delaware together, just for the fun of walking across a whole state, and I looked forward to having some time with her again.
This time there is no distant point at which to park a second vehicle, as we are heading into a remote section of the waterfowl impoundment and reserve that make up the headwaters of the dammed lake. Rivers flow into the reserve from north, east and west, but there are no roads—there will be no choice but to return back along our path.
It is a sunny day, and very warm. Along the river where we begin our walk, a few fishermen have taken up posts on either side. They are quiet, standing patiently with their lines in the water and their buckets beside them—one empty, ready for fish, another with drinks and snacks and assorted fishing gear. We soon leave them behind, but not their trash: all the drink containers from years past are strewn along the banks and in the water, where they gather in sludgy masses against trees that lie across the river. In the clear winter woods, each piece of litter draws our eyes and reduces our pleasure in what could have been a lovely river scene. I rehearse words of rebuke to the fishermen, but walk silently away from them instead, eager to get downriver where they will not venture.
A few months of drought allow us to cross areas that after a wetter season would have been muddy bogs and to walk easily through dry gulches that would ordinarily be rippling streams. It is still necessary to cross some streams on fallen trees or go around them, but the going is much easier than I had expected. After an hour and a half of relatively uncomplicated walking I am feeling hopeful: the lake could not be far now. The river is pulling us toward it, without challenge, and the afternoon is still young enough for a leisurely return before dark.
We are getting deeper into the world between worlds: here there are no road sounds, no hiking paths, and no people. I feel comfortable after my past river walks, and settle into a silence that feels natural and right. But my friend is unhappy. When we stop and sit on a log to eat a snack, her face is flushed, her voice strained as she tells me she is tired and would like to go back. This is harder than she had expected, she says: she thought we were going on a walk in the woods, not on a bush-whacking expedition, and crossing the river on downed trees is frightening to her. She worries that it will get even harder to cross the streams as they widen down-river.
My first impulse is to let her rest while I go on, see the lake, and return. I cannot imagine turning back: it seems to not be in my body's vocabulary. This is something I intended to do, regardless of conditions—but it is not something my friend thought she agreed to, and I realize I have to acknowledge that, with grace. So we rest awhile, and I suppress my disappointment as we stand up and turn back toward the north, heading out. The river is patient, I think, though I, at this moment, am not.
In reflecting afterward on this aborted leg of my journey, I return again and again to think about personality or character. I imagine that if I had indulged, as a high-school senior, in one of those bylines below my class picture—which for some read, "Sure to Succeed," or "Miss Congeniality," or "Big on Brains"—mine might have read, "Strange Goal-Setter." I know I define myself by setting strange goals: they keep me challenged, broaden my experiences, give me pleasure in accomplishment—and they build great memories. I have always liked to stretch physically, face the unknown every now and then, and taste a little danger to keep myself focused. But this is not, perhaps, normal, especially in middle age. And this is why I might need to do my scrambling through thickets and crossing rivers deep in the woods—by myself.
Fifth Day: By Myself
And so, before a month has passed, I go back alone. It does not take me long one crisp morning in early April to pack a light bag with food and water—and this time, with a touch of the morbid, I put my driver's license in the bag and throw a bright red shirt over my light fleece jacket so that I can be spotted by the search helicopters when I become hopelessly lost, dehydrated, and deranged back there in the swampland. I realize once I am well on the road that I have neglected to tell anyone where I was going, so the chance of ever being found would be pretty slim. I go anyway. I park my car, slip into the woods, pass the silent fishermen and their abundant trash, and disappear into the river world again.
To make it interesting rather than a re-run, I cross the river on a large log and follow along the opposite bank of the river from the previous attempt on this section. I'm pleased to find a narrow foot-path that follows close to the bank and makes my hike easy for a while, but soon I come to the last fishermen and the path disintegrates and then disappears. I begin forging my own way, happy to trade the foot-path for the solitude I now enjoy.
Occasionally there are deer paths that make my way easier, but for the most part I make my own familiar struggle through or around the thickets, keeping the river always on my left. I forge ahead steadily for two hours or more, in bliss. This is the first time I have walked the river when the woods are leafed out. All is green and full, with a sheltering effect I haven't felt before. The trees hanging over the river are lush, and there are fronds and flowers everywhere along the banks. Occasionally I come to vast areas of rich green grasses, dense and soft.
Most exciting is the cacophony of sound from above and around me: the calls of woodpeckers, jays, and birds I do not know are thrown back and forth overhead, ducks startle up in pairs along the river, and great blue herons rasp their complaints at me as they heave their gangly bodies up from their fishing spots when I pass too close. All these birds are very busy, it seems, for they hardly stop their chatter as I pass through.
I come to a low and open spot along the river with a sandy bank and a delightful little waterfall where beaver have begun building a dam. They have laced small branches in an intricate pattern completely across the river, low enough and loosely enough to allow the water to ripple through with lovely sound-effects. I sit on the little beach for a while and absorb pure sound: water falling, a woodpecker pounding a hollow tree overhead, the whoosh of great blue heron wings high above, a barred owl calling, the whisper of leaves in the breeze.
I have not walked far downstream from this idyllic spot when I notice the woods are beginning to open up. As the trees thin out, the ground also has less undergrowth and it is easier walking as I cross expanses of hard and occasionally soft mud. There are tracks everywhere in this mud: a multitude of deer tracks, raccoon, beaver, ducks, small rodents, and now mine.
When I stand still and look carefully, I can see as many as six great blue herons at once, standing statue-still not far away, coursing overhead, gathering twigs for a nest, or landing on the river-bank. I have always thought of them as solitary figures, but here I see that they are sharing this wetland in great numbers, pairing up and building homes in close proximity. I have probably seen as many as forty of them today—a once-in-a-lifetime experience.
When I come at last to open water, I am hungry and thirsty. As I sit and eat my lunch looking out over the water, I realize that this is not the beginning of Jordan Lake after all, but another river joining New Hope Creek from the west. It is wide and rather swift as it rounds a deep bend to join forces with the New Hope. I explore a little and confirm that I am caught in the spit where the two rivers join, both of them quite wide now. I backtrack upstream on the New Hope and find a crossing, but then I am caught again when another wide creek comes in from the east.
I see how I might easily get separated from the New Hope and lose my bearings. If I go further toward the lake now, I may end up trying to follow the wrong creek back upstream to get home, and then I would need those helicopters to search for me, for sure. Staying by the New Hope is my only safe choice, which means returning upstream is my only option now. I can get no closer to the lake. But I am close enough.
Far, far back upstream is my little spring coming up from the earth where this journey began. Beside me in the deep and flowing river runs water from that spring. It is now joining the web of other springs and creeks and rivers as they weave together in this wide stretch of wetland. I look around at the spreading waters and think of the metaphor of the river for a moment. Perhaps the river as life has something else to tell me now. This wetland that New Hope Creek has joined no longer knows New Hope Creek; it no longer knows my spring water or the water of other creeks flowing into it. My river is no longer "more or less the same." I turn to the river bank, and begin to walk back upstream, turning my back on the lake. I am not ready for a metaphor of death or afterlife: I have far to go still, today and tomorrow. For now, perhaps, I can simply reflect on the enlightenment that comes with knowing communion: the joining of the streams for strength, the sharing of waters, the becoming more in "more or less the same."
It is several hours before I finish the walk back. I get lost for quite a while, I run out of water, I become less sure of foot, and I begin to hurt. My body reminds me that there are some seldom-used muscles that have been used a lot today to step over big logs, shinny over rivers on trees, pull boots out of sucking mud, and side-step stump-holes. I have numerous scratches on my face and briar punctures in my legs and arms, my hair is knitted with leaves and bits of vines, my boots are caked with mud. I'm sure I am an odd sight as I come out of the woods and greet the fishermen, with a smile.
---