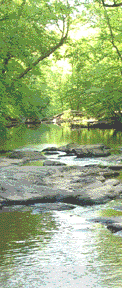 Reflections on Early Exploration
by James Davis
Eno Will's Friend — An Imagining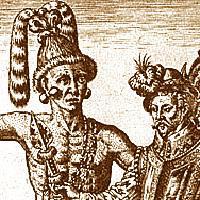 Twilight was approaching, and a fish broke the silence as it crested the creek's surface. Mostly likely a whiskered one, as they are plentiful. He could sense her approach on the bank long before he felt her hand on his shoulder. They were always like that; in tune with one another since their first meeting. "You are thinking about him again, my husband", she spoke. "Yes my Queen, we saw a lifetime together in that journey". He turned to face her and smiled slightly. "Our daughter expects us to see our new grandchild", said he. She implored, "Back to the Lodge house, we must soon prepare to travel to where the New Hope meets the Haw in less than two days time".
Stepping through the entrance, he glanced to the lodge pole that still held the necklace made of bear claws. That was an event that tested the courage of both men's nerve. Surprised by a large black bear that wanted their dinner of rabbit, neither man had any time to react other than pulling a knife and clutching a spiked war club. Still thanking the stars after all this time, Eno Will was happy they only received surface cuts and bruises, before killing the uninvited dinner guest. The old war club was traded during the journey for a fine iron axe. Will recalled with fondness how at the end of the trek, his fellow adventurer gave him his own long hunting blade that he had obtained when he first landed in the colonies. He also remembered with pride, the giving of their daughter's hand to the future leader of the downstream village and the shock and awe in the young brave's face as he presented that same cherished dagger to him as a wedding gift.
As he retired to his wife on buffalo robes, she consoled him and held his hands in hers. "He was a good man. It has been moons since we heard of his passing; as the Chief of our tribes do you not wish to avenge his death"? "No my wife, it would not be something he would approve of. Why make war over a war? I shall say that he would have enjoyed much to live long enough to see our grandchild. He always looked on new births with the eyes of a child. I think when we visit I shall tell stories about him that I did not relay when I returned and reported our discoveries to the tribes. I remember when we saw the masked one eating overly ripe peaches how he said, "the raccoon is the drunkenest creature living, if he can get any liquor." Both chuckled over this again and settled to sleep. His last conscious thoughts were of how his friend with the big heart now soars with the hawks. Yes his wife was right, he was a good man. In fact, Eno Will thought his friend would have made a great Chief; John Lawson had that kind of soul.
Journey of a Thousand Miles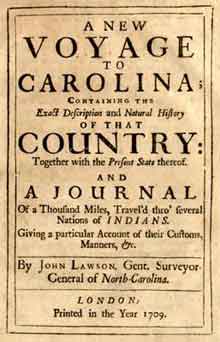 After considering his options and reminded of what his friend had told him "that Carolina was the best country I could go to," young twenty-six year old John Lawson walked down the gangplank onto the docks of Charles Towne (renamed Charleston in 1783) on August 15 of 1700 to make his future and fortune. Landing a position as surveyor with the eight Lord Proprietors that held the overall land grants and titles for Carolina, he was assigned the exploration, mapping and reporting of the northern region. It was all one great territory during those days; they became separate royal colonies in 1729. After gaining Independence from England, South Carolina was admitted to the Union in 1788, North Carolina became a state a year later.
Three days after Christmas in 1700 the young surveyor/adventurer Lawson headed a party into the upper reaches of South Carolina. He crossed the future boundary into North Carolina passing by Charlotte and traveling the backwoods northwest as far as Davidson County and crossing the Uwharrie River into Randolph County. At the Keyauwee Town village in February of 1701 his crew had enough adventure and separated from him, traveling to Virginia. He and a translator continued east following the trading paths. Searching for a new guide, they met with the great leader of combined tribes in the Acconeechy village on New Hope Creek.
we set forward; and the Country, thro' which we pass'd, was so delightful, that it gave us a great deal of Satisfaction. About Three a Clock we reach'd the Town. Their Cabins were hung with a good sort of Tapestry; no Indians having greater Plenty of Provisions than these. The Savages do, indeed, still possess the Flower of Carolina. We had not been in the Town 2 Hours, when Enoe Will came into the King's Cabin; which was our Quarters. We ask'd him, if he would conduct us to the English, and what he would have for his Pains; he answer'd, he would go along with us, and for what he was to have, he left that to our Discretion.
The two met during the final leg of Lawson's exploration of the Carolina back country. John Lawson was extremely impressed with the vastness of Eno Will's chiefdom and the reaches of his influences. Eno Will's position and savvy smoothed the way for many a meeting with other cultures on the journey, especially the Tuscarora. It goes without saying that both men developed a deep admiration for one another, enduring a trek from the Piedmont to the coast on horseback, on foot and in dug-out canoes.
We went over a small River by Achonechy, and in this 14 Miles, through several other Streams (the New Hope valley). The stony Way made me quite lame; so that I was an Hour or two behind the rest; but honest Will would not leave me. Our Guide and Landlord Enoe-Will was of the best and most agreeable Temper that ever I met with in an Indian, being always ready to serve the English, not out of Gain, but real Affection.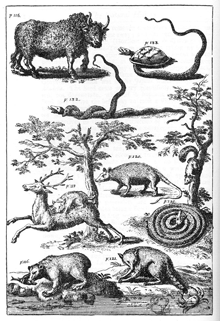 After almost two months and approximately 600 miles, the expedition ended where the Pamlico River empties into the sound. No one knows if the two men kept in touch with any regularity. Surely, by way of the 'Indian grapevine' over the years some information was passed about each other. John Lawson settled on the North Carolina coast and co-founded the town of Bath in 1705. He published a book of his excursion in 1709. It was detailed with drawings of flora and fauna, maps of the terrain and copious notes concerning tribes and mannerisms. Eno Will was mentioned often. John Lawson became North Carolina's first Surveyor General and also helped in the founding of New Bern, in 1710. Not being one to bask in former glory, in September of 1711 Lawson set out to travel back up the Neuse river for more mapping and exploration (one wonders if he was to seek out his old friend Eno Will had he made it to the upper reaches). The Tuscarora were undergoing difficult relations with the English during this period. John Lawson was captured and killed by them at the age of thirty-seven, becoming probably the first casualty of the Tuscarora War (1711-13).
The herds of woodland bison trotting two and three abreast across the New Hope Valley from Beaver Creek have evaporated into the ether of time, as has Eno Will. History does not tell us of his final resting place. The only other writing we have of Will in later days was a passage in a journal from the explorer William Byrd in 1733.
We sent for an old Indian called Shacco-Will, living about seven miles off, who reckoned himself seventy-eight years old. This fellow pretended he could conduct us to a silver mine, that lies either upon Eno River, or a creek of it, not far from where the Tuscaroras once lived. But by some circumstances in his story, it seems to be rather a lead than a silver mine. However, such as it is, he promised to go and show it to me whenever I pleased.
If in fact this Shacco-Will is the same Shoccoree Indian known as Eno Will, he would have not only have been a great chief, but lived long to become an elder spokesman. He would have passed sage wisdom and oral history to the upcoming generations. His talks would be sprinkled with remembrances of how the gray wolves howled at night from the craggy rocks above the Occaneechi town. That the skies were once darkened by clouds of passenger pigeons over Adshusheer, their flocks stretching for miles. And children shied from playing in the Acconeecy nut groves, after hearing the nearby snarls of a southern cougar. If nothing else, he would have told the tale of his former friend John Lawson and their eventful trip from the Piedmont to the Pamlico Sound. And, he would have told his captive audience that by resting on the banks of the "pretty little rivulet", if they let the fingers of the New Hope touch their soul, they too could take a journey of a thousand miles.
---