On April 23, 2006, we held an Earth Day celebration at Leigh Farm, a plantation dating back to the 19th century that is now a City of Durham Heritage Park. The event celebrated the re-emergence of Friends of New Hope Creek, a citizen advocacy group that was active in the 1990s and is now being reborn to give the public a vehicle for promoting the preservation of the New Hope Creek corridor.
Highlights of the Earth Day festivities included a tour of the property by Curtis Booker, who is a descendant of the Leigh family. Here, he is shown with a group standing in front of the main farmhouse, and with B.B. Olive inside the former slave quarters.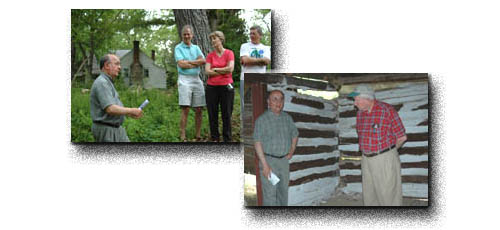 Another special guest was "River Dave" Owen, a naturalist who led a nature hike over the ridges and bottomlands adjacent to the plantation that will also be part of the City of Durham's historic Leigh Farm Park.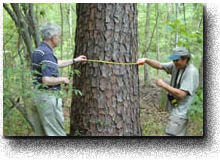 It was too wet to hike all the way to nearby New Hope Creek, but Dave talked to us about the flora and fauna of Leigh Farm. We learned about Champion Trees (the largest of their species in the nation, state, city, etc.), and measured this loblolly pine to see if it might be in the running.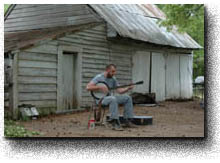 Justin Stiles entertained on the banjo in front of the Leigh Farm carriage house. Neighborhood dogs served as a welcoming committee, and visitors wandered around the grounds, enjoyed refreshments, and picked up literature on the New Hope and related issues.
If you missed the event and are curious to see Leigh Farm, you don't have to wait until Earth Day 2007. You can visit any time. The farmhouse is not open to the public, but the grounds and trails are. The map below will help you get there. If you want to have a voice in the development of Leigh Farm Park, consider attending the planning meeting on May 23.
And watch this website for announcements of future Friends of the New Hope activities.
Click here to learn more about Leigh Farm.

Directions
Leigh Farm is located at the end of Leigh Farm Road in Durham, near the intersection of I-40 and NC 54 (look for the Palladium Corporate Center at the corner of NC 54 and Leigh Farm Road).
From Durham, go west on NC 54. Just before I-40, turn right onto Leigh Farm Road and drive to the end.
From Chapel Hill, go east on NC 54. Just after I-40, turn left onto Leigh Farm Road and drive to the end.
---