Road planners aim to assist wildlife
The News & Observer, September 12, 2005
© 2005 by The News & Observer
by Jim Nesbitt, Staff Writer
Correction [published a few days later]: A front-page story Monday incorrectly reported the population density for deer. The correct rule of thumb is 30 deer for each square mile.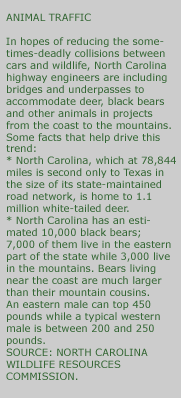 DURHAM — With the dull thrum of traffic overhead, nature enthusiast John Kent sketches a mind's-eye journey along the muddy banks of New Hope Creek.
"Imagine you're a deer or animal and all of a sudden—BANG! There's this," Kent said.
He sweeps his left arm toward the twin concrete-and-steel spans carrying U.S. 15-501 across the creek to drive home his point.
How deer and other wildlife deal with the sudden, looming thunder of a highway bridge is a crucial issue for Kent and other citizen-activists.
They successfully lobbied the N.C. Department of Transportation to double the length of the twin spans when construction crews start widening a short portion of this artery between Durham and Chapel Hill just east of the Interstate 40 interchange. They hope the longer bridge will encourage more deer to use the creekside crossing.
The wildlife factor is playing an increasingly critical role in route selection and roadway design for highway projects from North Carolina's coastal lowlands to the mountains—sometimes adding millions to construction costs.
The beneficiaries range from black bear to red wolf to white-tailed deer—a suburban scourge. But the goals are the same: preserving habitat and building critter-friendly passageways to reduce collisions between wildlife and cars.
A scientific first
Consider the new four-lane route for U.S. 64 between Roper and Creswell, about 145 miles east of Raleigh. This Washington County four-lane opened Aug. 30—just in time to handle Labor Day weekend beach traffic.
The road includes three wildlife bridges, which cost a total of $2.7 million and enable animals to travel under U.S. 64. The bridges represent a scientific first for the state, said Scott Osborne, surveys and research coordinator for the N.C. Wildlife Resources Commission.
Engineers and wildlife biologists conducted an extensive study to determine three primary travel corridors for bears, wolves and deer. State highway officials ponied up $115,000—about half the cost—to help the Wildlife Resources Commission pay nationally reknowned University of Tennessee bear experts to conduct this research.
This growing alliance between highway engineers and wildlife is driven by environmental regulations, the state's high population growth and the resulting pace of new road construction.
"It does touch on our No. 1 mission, which is highway safety," said Roger Sheats, the N.C. Department of Transportation's deputy secretary of environment, planning and local government affairs. "If wildlife learn how to use the crossings, there's less of a chance of a collision between animals and cars."
Officials also hope the alliance will foster a compromise between road builders and environmental agencies and activists. The two sides have traditionally engaged in the legal equivalent of trench warfare.
"It's just the cost of doing business now," said Mike Bryant, manager of the Alligator River National Wildlife Refuge in Dare County. The 152,000-acre federal preserve is home to black bear and red wolves and is in the path of the next phase of the four-lane expansion of U.S. 64 between Raleigh and the coast.
When it comes to collisions between cars and animals in North Carolina, almost 92 percent of the wrecks involve deer. This highly adaptive herbivore thrives in rural fields and woods and at the edges of suburban development.
In 2003, the latest year analyzed by UNC-Chapel Hill's Highway Safety Research Center, there were 15,456 deer-car collisions statewide, a 9.4 percent increase from the previous year. Ten people died in those wrecks, two more than the year before.
The increase isn't the result of more deer, biologists say. Instead, they say the increased collisions are a sign that North Carolinians are driving more miles from home to work and recreation.
Building a crossing that will keep cars and deer apart isn't cheap.
The proposed U.S. 15-501 bridge across New Hope Creek will cost an additional $1.2 million to build, state highway officials say. Bids on the $8 million project, which will expand the highway to six lanes, are expected to go out in February 2007.
By lengthening the new spans to 300 feet, jacking up their height to 10 feet and including roadside fence lines leading up to the bridge, biologists and engineers hope to keep deer traveling along the creek, which forms a natural corridor between Duke Forest to the north and the game preserves above Jordan Lake to the south.
The extra space also will provide room for a hiking and biking trail, said Kent, 59, a former urban planner who lives in Chapel Hill.
"If you're going to have open space, you have to design the best compromise for the people who paid for it and the wildlife," said Kent, a member of the New Hope Creek Corridor Citizens' Advisory Committee.
Tracking the animals
The wildlife hopes for the New Hope Creek plan are based on a mix of theory, gut instinct and field observations of deer and other animal tracks.
In May, an N.C. State University wildlife biology team wrapped up a 17-month study of wildlife traffic under the existing bridge, paid for with $121,000 of DOT money. Another team will study wildlife traffic once the new bridge is built.
In the state's northwest corner, another team of N.C. State biologists will soon study whether black bear, deer and other critters use two wildlife culverts built underneath the extension of I-26 near Mars Hill in 1996 for $600,000.
For the new four-lane route for U.S. 64 through Washington County, the science came first, then the bridges, which include fences and concrete posts to block ATV traffic.
Along with identifying the three most heavily traveled animal corridors, the University of Tennessee wildlife team also used radio collars to track black bears to determine the size of their home ranges and their travel habits. This will help them measure the impact of the new highway in a second study scheduled to begin next year.
Black bears account for far fewer animal-car accidents, said Mark Jones of the N.C. Wildlife Resources Commission, the state's lead bear biologist. About 100 are killed by cars and trucks statewide each year.
But bears are far bigger and far less adaptable than deer. They are also more susceptible to the fallout from a four-lane highway cutting through their home ranges and dens, which are essential for hibernation and breeding.
Science makes the Washington County bridges a better bet, but their success isn't a dead-solid lock, said Osborne, the state wildlife commission research coordinator.
"Whether bear'll use them or not—on Highway 64, that's the $64,000 question," he said.
Staff writer Jim Nesbitt can be reached at (919) 829-8955 or jim.nesbitt@newsobserver.com. News researcher Denise Jones contributed to this article.
---