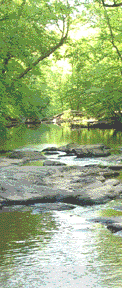 New Hope Creek From Chapel Hill-Durham Boulevard to Erwin Road
(Component 4 of New Hope Corridor Open Space Master Plan)
The Committee submitted comments on the Patterson Place development proposal, which would have affected Components 2, 4 and 5 of the New Hope Creek corridor. The proposal was rejected by the Durham Planning Commission on April 9, 2019. More information available on City of Durham website here. Committee comments: Oct. 2018, Nov. 2018, Feb. 2019, April 2019 and May 2019.
Photos
Description and Special Features
Someday soon, this stretch of the New Hope will be home to the New Hope Creek Preserve (see the Hollow Rock page for more details). This section is subject to intense development pressures, particularly along US 15-501. Our committee keeps a close watch on developments in this area, including construction of the New Hope Commons shopping center some years ago. We are currently monitoring the Indigo Corners complex that is being built on the northeast corner of 15-501 and Mt. Moriah Road directly abutting the creek.
Component 4 of the Master Plan also encompasses the Trinity School on Pickett Road. Trinity School owns the Dallas D. Branch, Sr. Nature Preserve, which includes a trail along the creek. The land for the preserve was donated to the school by the Branch family in 1999. In January 2007, Trinity School sold 26.5 acres of land along New Hope Creek to Orange County for future preservation (read more about this sale).
In the News
Links to news stories about Component 4:
Text from 1991 New Hope Corridor Open Space Master Plan
Existing Land Use & Ownership
On the northern end, near Erwin Road, privately owned, large, undeveloped tracts, principally in agricultural and forestry use
Low-density residential use along Mt. Moriah and Cambridge Roads
Garrett Farms subdivision, medium-density residential development
On the north side of Boulevard Ridge, both large and small privately owned parcels
Future Land Use
The potential for development along Chapel Hill-Durham Boulevard is extremely high. Rezoning on the north side was proposed in 1990 and later withdrawn. A proposed grade-separated interchange in the vicinity of Mt. Moriah Road would have an extremely high impact on the ridge uplands and north-facing slopes. Lands along both Mt. Moriah and Cambridge Roads, because of their proximity to the Interstate 40/US 15-501 interchange, appear to be very valuable as developable land. Zoning is as follows: in Durham, R-20 single-family residential (1 dwelling unit per 1/2 acre), and commercial along Chapel Hill-Durham Boulevard; in Chapel Hill, rural transition (1 dwelling unit per 2.3 acres); and in Orange County, rural buffer (1 dwelling unit per 2 acres).
Proposed Connector Road: The regional Thoroughfare Plan includes a proposal for a connecting road that would permit traffic originating in the Chatham County and Chapel Hill vicinity to access Durham and US 15-501 more efficiently.
Significant Resources
This component of the corridor is perhaps the hub of hydrological and biological systems occurring in the entire area. It is at this location that the Mud Creek, New Hope Creek, and Dry Creek floodplains meet. It is the furthest point upstream where the New Hope Creek flows into its wide Triassic Basin floodplain.
Nineteen vegetation sites have been identified in this section, comprising the following groupings: New Hope Creek-Dry Creek-Mud Creek Lowlands; Boulevard Ridge Uplands; and Garrett Farm Peninsula Uplands (see Appendix E of Master Plan). Unlike the Corps lands to the south, this area bears the marks of recent agricultural practices—open meadows, old farm roads, plowed fields, and managed woodlots. Preservation would include continuing these land uses as interpretive activity. The Boulevard Ridge Uplands includes sites on steep north-facing slopes. The Garrett Farms Peninsula Uplands sites, which were originally identified in the Harrison report, have been significantly compromised by the building of the Garrett Farms subdivision.
Component 4 includes several units determined by environmental considerations and potential land development. The portion of the 100-year floodplain from Erwin Road southward to Garrett Farms retains a greater degree of environmental integrity than do the portions closer to the Boulevard and on the lower reach of Mud Creek. This is due to the fact that adjacent land has not yet been developed as intensely. Also, sewer lines have not been extended northwest of Garrett Farms. This lower degree of disturbance on the adjacent uplands offers a continued potential for wildlife habitat preservation no longer possible south of Garrett Farms. Protection measures must be introduced before the adjacent lands undergo intense development.
Recommendations for Protection & Use
Protect the entire 100-year floodplain.
Establish a protected wildlife area for plants and animals in the stretch of New Hope Creek as described above.
Permit no extension of sewer lines in the wildlife protection area.
Manage floodplain lands to maintain open fields and pastures.
In Durham County (Component 4 Map, Area A), acquire development rights to lands zoned R-20 (1 dwelling unit per .5 acre) so that the resulting density is one dwelling per 2 acres (or utilize another method to preserve a 200' undisturbed buffer adjacent to the Wildlife Area/floodplain in Area A, Component 4 Map*).
In the Orange County/Chapel Hill Joint Planning Area (Component 4 Map, Area B), maintain the existing rural buffer zone that requires a minimum 2-acre residential lot size, with no extension of public sewer lines.
In the Chapel Hill Extraterritorial Jurisdiction (ETJ) (Component 4 Map, Area C), retain the existing RT zoning with a 2.3-acre minimum lot size.
Retain the existing zoning and zone lines for Garrett Farms (Component 4 Map, Area D).
Acquire a site along the east side of Mt. Moriah Road (Component 4 Map, Area E-2) for a public access site and trailhead.
From the trail access site on Mr. Moriah Road, establish a nature trail along the west fringe of the New Hope Creek floodplain, through the Wildlife Protection Area described above, to link with the Hollow Rock Trail access area described in Component 6 (Component 4 Map, Area E-1).
Establish a bicycle and pedestrian trail connecting from the south through the Boulevard underpass (Component 2) to connect the Sandy Creek trail (Component 3) and the Dry Creek connector (Component 5).
Boulevard Interchange/Thoroughfare Plan:

It is strongly recommended that the proposed routing of traffic from the southwest, whether by constructing a new road or parkway or by modifying the existing road system, not be permitted to make the Mt. Moriah Road, Erwin Road, and Whitfield Road route into effectively an outer loop for Chapel Hill traffic. This would have considerable effect on the rural character of the existing roads and on the environmental quality of New Hope Creek and Duke Forest.
Should an interchange be included in the forthcoming Thoroughfare Plan, it is recommended that the proposed location between Chapel Hill Road and the Boulevard be away from the steep slopes that border New Hope Creek in that area. Further, any interchange connecting with the Boulevard should be located and planned to avoid the steep slopes and accompanying ravines.
Any interchange at the Boulevard should avoid a direct connection or extension to Mt. Moriah Road or Erwin Road.
* Text in parentheses added as an amendment by the Durham Board of County Commissioners.
---